Matcon IBCs, Mixers Lineup
Nisshin is Japan's sole sales representative for Intermediate Bulk Containers (IBCs) from Matcon Ltd. in the UK, helping to realize high-mix low-volume production with a parallel batch system.
Nisshin sells unique spherical mixers. These are equipped with a high-speed rotary impeller and low-speed scraper, and are capable of precision mixing in a short time by tilting the mixing tank.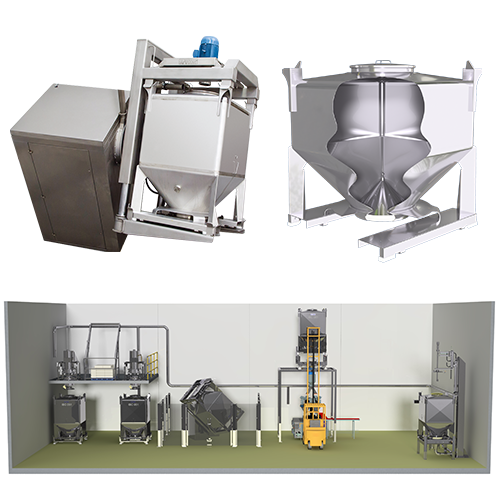 Intermediate Bulk Containers (IBCs)
(Matcon Ltd. in UK)
Intermediate Bulk Containers (IBCs) are efficient, dust-tight powder containers, used to move materials between manufacturing steps and for effective powder Blending. Central to the system is the Cone Valve which can overcome issues of mix segregation, containment and bridging. Formulation - formulate powder recipes directly into IBCs with accurate, automated filling and add into your batch processing flow as required. Mixing/Blending - Mix powder recipes at any time using an IBC Tumble Blender. Mixing takes place directly within the IBC, making recipe changeovers virtually instantaneous as the blender has no product contact parts to clean. Options for liquid addition and high shear blending extends the range of blending capabilities. Packing - Accurately discharge your powder-­based products without segregation. Easy-to-clean system with tool-free, swap-out heads performs quick recipe changeovers. Cleaning - Remove bottlenecks and factory downtime with safe, repeatable washing sequences that can be fully automated and performed 'offline'.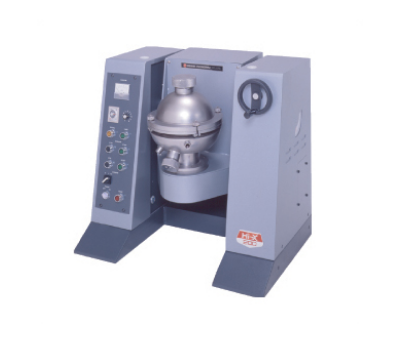 Precision powder mixer Hi-X
The Hi-X mixer is capable of high-precision, high-speed mixing, and offers a solution to the advanced requirements for powder mixing and powder surface reforming with Nisshin's proprietary agitation technology.
Sales Representatives & Contacts
Click here to discuss matters or submit inquiries relating to Nisshin Engineering global network of sales representatives or equipment.